Are you heading off on holidays? Let the community know that you won't be able to send your items, should one of them get sold :)

You can activate "HOLIDAY MODE" at any time to make your items unavailable for purchase.

This will prevent your sales from being canceled, your seller statistics going down and your buyers being disappointed!

To do this, go to your account:

Via the app, "Me", "Holiday mode"
Via the site, "My account", "Holiday mode"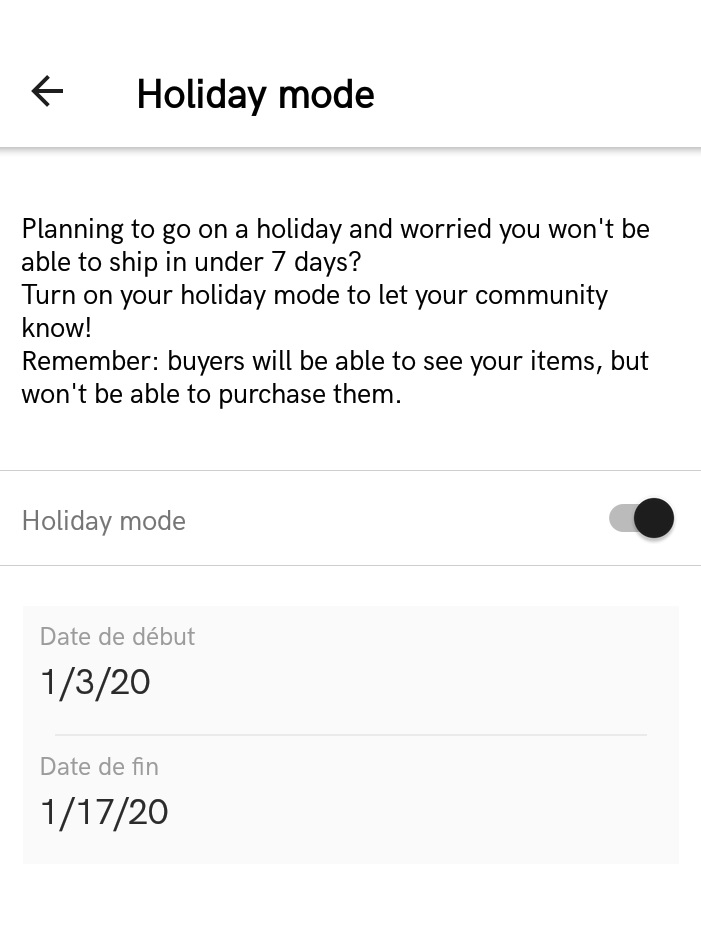 Then slide the button to the right, and enter the start and end dates for your time away.

Your items will remain online but the "Add to Cart" and "Negotiate Price" buttons will be disabled.

An absence message will also be displayed in the description of your items, to let potential buyers know you are away and invite them to come back later.
This message will automatically disappear at the end of the indicated period and the "Buy" and "Negotiate" buttons will be reactivated.
Important: If you come back earlier than planned, remember to turn off Holiday Mode so that your items are available for purchase! It may take a few minutes for the item to appear available again.
If you return later than expected, you can also extend the period by changing your unavailability dates.
To note: Even when activated, the "Holiday mode" does not cancel the number of sales needed to keep or earn an Expert or Trusted Seller badge.
For example, if you are absent for 3 months, you will only have 1 month to sell the right number of items and therefore keep or get your badge.
Would you like to know more about the criteria to be fulfilled to be a Trusted or Expert Seller? Click here.
Can't see this feature? Make sure your app is up to date!